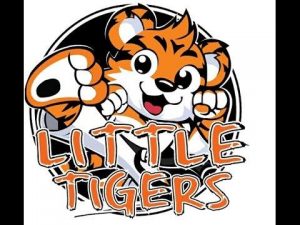 Lets have a HUGE WELCOME to our new Little Tigers Program.
Coming in February 2020! Little Tigers Class for 3 1/2 yr – 4 yr olds
This program will help your child with focus, balance, overcome shyness, gain confidence, improve listening skills, and build fine motor skills with simplified training exercises related to the martial arts. They will be earning stripes on their uniform belts, in a ceremony each month. Classes will be twice a week for 45 min each. Class size will be limited. Sign up will be $125 which includes the first month and the uniform. Monthly $99. Pre-registration will begin Jan 2. 2020.